There is a serious shortage of direct care workers in Michigan – as well as states across the nation. Direct care workers provide caregiving for disabled and elderly people – everything from making meals and managing medications, to housecleaning and companionship. About half of these workers provide services to disabled and elderly people living in their own homes.
Sarah Sutherlin is one of these workers.  On the day we meet her, she's working a shift in the home of a client, 92-year-old Carmela Palamara. Palamara sits huddled in the folds of a big flannel shawl at the dining room table.
Sutherlin makes her client's usual breakfast: eggs and toast, with the toast practically burnt because that's the way Palamara likes it. Even though she has a lot of housekeeping work to do, she sits at the table while Palamara dines. Otherwise, Palamara feeds her breakfast to her extremely well-nourished Golden Retriever named Sophie.
"Carmela's morning is usually getting her up, dressed, do her hair, and make her a hot cup of coffee, then medications, breakfast," says Sutherlin. "She has a routine. Most of the time, it's, 'I don't want to get up today, I'm cold,' but usually when I prompt her, we can get her moving and I think she feels better after she gets up and starts moving."
Sutherlin says keeping Palamara socially and mentally engaged is just as important as the other things she does, so she'll do crafts with her or play board games. Palamara's memories are fading, so that's something else Sutherlin tries to work on. She keeps Palamara engaged in conversation while she changes the sheets on the bed or cleans the bathroom.
"Did you see the girls yesterday, your girls, Gracie or Gina?" Sutherlin asks.
"I saw Gracie. I don't know if I saw Gina," Palamara responds after she thinks for a minute.
Today, two members of Palamara's large family are also here, her two grandchildren, Amy and Alyssa Blicharski.
Amy Blicharski says that large family means Sutherlin doesn't need to be here every morning.
"Caring for someone is hard," says Blicharski.  "But we get a lot of family support.  It's like, I'm not going to be here this morning, somebody's got to make sure Grandma gets up, gets pills, gets food … so it's nice to be able to spread that between our family members.  But having Sarah here in addition to that is fantastic, because Grandma loves seeing Sarah and every morning says, 'Is Sarah coming today? Will Sarah be here today?'"
Sutherlin is employed by metro Detroit-based agency Excellacare.  She is 66 years old.  Sutherline tells me she tried to retire, but she missed her work too much and came back. She seems to have something of a specialty – caring for the very eldest of the elderly.
"I think that's why they live as long as they do," she says, "because they're able to have that sense of independence and (know) that they're valued.  You've got 92-year-olds, 95-year-olds, 97-year-olds that live independent and I love seeing that because I want to be there one day!"
When she thinks about her own old age, Sutherlin knows there's no way to know what's ahead. Her great-grandmother lived to be 115, her mother, only 76. But she says her faith in God guides her. She hopes not to be a burden on her three sons and three grandsons, but she figures the loving caregiving she has provided her whole life to others will surely be returned to her.
And when will it be time to really retire? God will let her know that, too.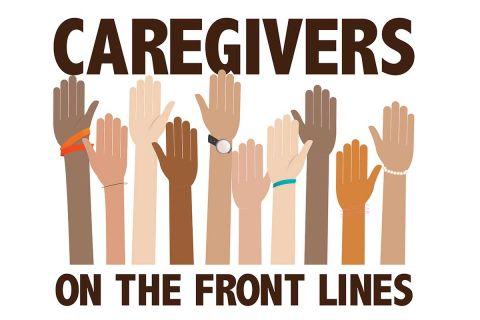 This story was produced through the New York & Michigan Solutions Journalism Collaborative, a partnership of news organizations and universities dedicated to rigorous and compelling reporting about successful responses to social problems. The group is supported by the Solutions Journalism Network.
The collaborative's first series, Invisible Army: Caregivers on the Front Lines, focuses on potential solutions to challenges facing caregivers of older adults.