Once a week, Robert Mazzola says goodbye to his pet rabbit and slips from his Saginaw home with a change of clothes, careful not to wake his wife in the 6 a.m. quiet. The 90-minute commute to his Clinton Township job is worth it to him.
Two years ago, Mazzola became one of an estimated 165,000 direct care workers in Michigan. It's a workforce of personal care aides, certified nurse assistants, home health aides and others who help aging or disabled Michiganders remain independently at home and save the state millions of dollars, but who advocates say are severely underpaid.
The problem is that there are just too few people like Mazzola, creating a crisis among families whose loved ones need help with their daily activities — shopping, bathing, or getting out of bed each morning.
IMPART Alliance, a Michigan research and advocacy group for those workers, estimates they serve more than 100,000 Michigan families.
It's about independence and quality of life, said Sherri Boyd, the executive director of Arc Michigan, an advocacy group supporting people with developmental disabilities.
"People with disabilities are people just like you and I, who need these services to have a good quality of life. And when they don't have access, they go into crisis," she said. "Then they get put into emergency placements that are not good for them (that) could have been avoided if we had the front end of direct care workers available."
"There's a lot of responsibility on the shoulders of these direct care workers," agreed Denise Abbott, whose two grown children Mazzola assists.
Mazzola said the drive for now is worth it, because he can stitch together long hours into single shifts, reducing his back-and-forth to his Saginaw home, he said.
Once a week Mazzola puts in a 24-hour shift, helping Abbott's children — Tammy, 50, who has a history of seizures and is severely mentally impaired, and Todd, 43, who has autism — bathe, cook, shop and clean around the house. At night, he monitors the two and helps with anything they need, like going to the bathroom, for example. Every other Monday, he works an additional midnight shift.
"It's really rewarding and fun. You can do a lot of fun activities and the job is, a lot of times, something new every day," Mazzola said. "It's never boring."
National spotlight swings to Michigan
Michigan's direct care workforce got a boost last year, and it earned Michigan national props last week.
In a 44-report report released Tuesday, a long-time national advocacy group for direct care workers, Bronx-based PHI lauded Michigan as a leader in raising wages for direct care workers.
For its report, PHI compared pay and sick leave for direct care workers across the nation in the first 18 months of the pandemic. Michigan's action last year to make permanent the pandemic pay raise of up to $2.35 an hour helped boost the state's hourly rate from $11.27 in 2017 to $13.80 an hour, according to the report.
"Explicitly recognizing the life-and-death realities faced by direct care workers and other essential workers during the pandemic, some states took action… Michigan, for example, led the field by implementing an hourly wage increase for direct care workers beginning in April 2020," the authors wrote.
But, to Robert Sheehan, CEO of Community Mental Health Association of Michigan, $2.35 isn't enough.
Sheehan said the work of getting to know people with mental and physical challenges is hard and demanding work, so finding people who like to do that kind of work is difficult when competing with a bigger job market that offers higher wages or benefits like health care or retirement planning, he said.
"This work is really hard work," he told Bridge. "That's why it's not enough."
The goal for the association, which advocates for Michigan's public mental health system, is to raise the minimum wage for workers to $18 an hour. Though, he said, this could cost anywhere between $500-800 million.
He said some of the state's multi-billion dollar surplus should be used to help provide those pay increases.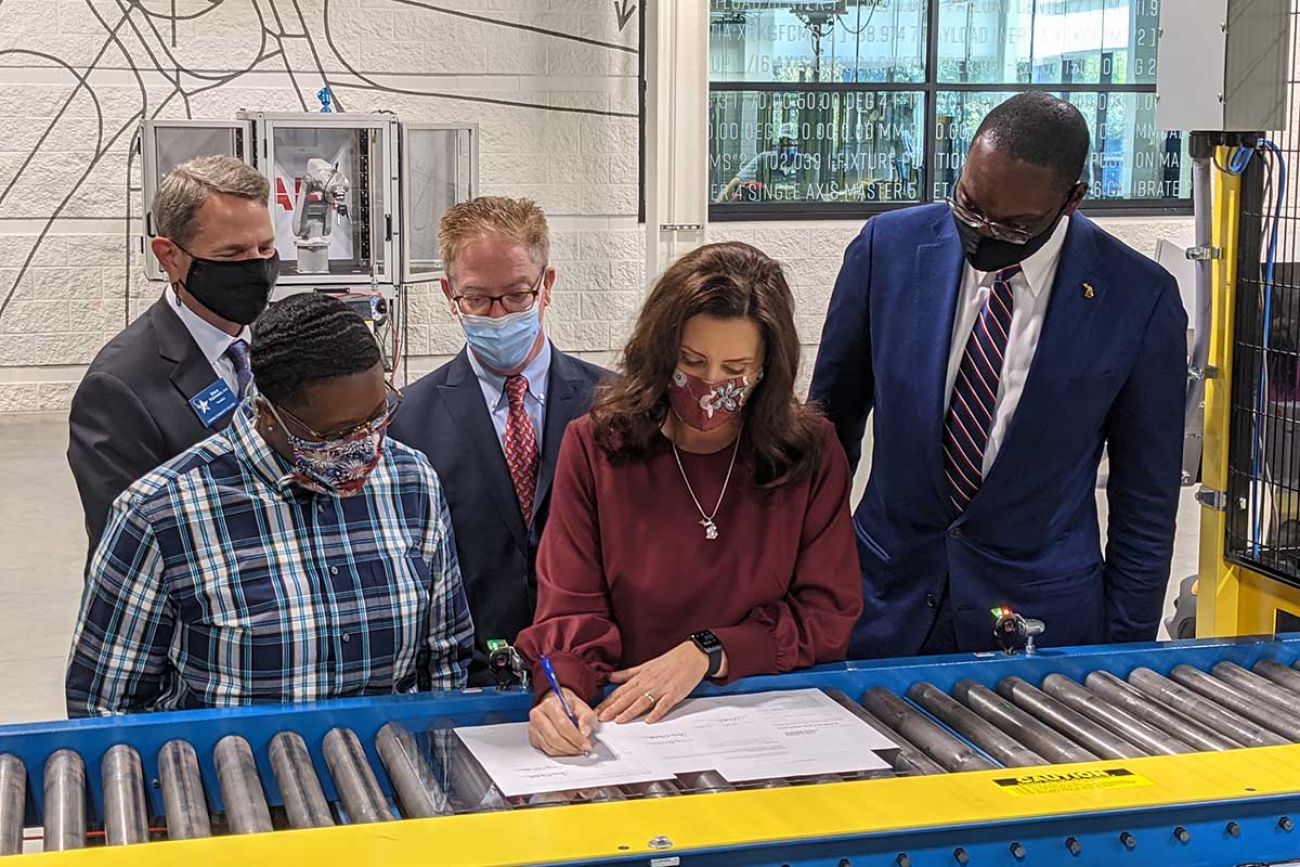 Gov. Gretchen Whitmer on Wednesday signed a $70 billion budget, while vetoing a handful of provisions that would have provided money for abortion alternatives. (Bridge photo by Jonathan Oosting)
Yet the same pandemic also displaced workers, as they returned home to care for their own families or fled the hazards of working during a pandemic. Most of those who left direct care never returned, according to a separate PHI report.
As inflation continues to climb, that $2.35-per-hour pay boost simply isn't enough to lure new workers into the often physically- and emotionally-demanding work of direct care, families told Bridge Michigan.
The importance of direct care workers and the challenges in finding and keeping them has long been recognized. In a 2019 report, the Michigan Department of Health and Human Services cited Michigan's aging population when it estimated a nearly-immediate need for an estimated 34,090 additional direct care workers.
"Wage levels" was the first challenge in building out the workforce, according to the report.
"Most (personal care assistants), for example, report they cannot make it without other household income from a partner, a second job, or Medicaid. This is due in large part to jobs most often being part-time and characterized by a lack of guaranteed hours," the authors wrote.
According to the national group, PHI, the estimated turnover rates for people working in direct healthcare averages between 40-60 percent.
Abbott's two children share a house in Warren and are able to choose their own staff. They can also set their own rules. Among them: Workers are required to be able to provide transportation.
Abbott serves as a one-woman staffing agency for her children.
Michigan's direct care workers are funded through Medicaid which often flows through Michigan's complicated community mental health bureaucracy. Their salaries are determined through allocations from the Michigan legislature.
Finding people with experience that are willing to accept the responsibility of direct care work for that low of a wage is hard.
And there's a skill that's required, too.
Those who work with Tammy, for example, must be able to respond to her seizures. Those who work with Todd must be able to help assist in more daily activities, like meal preparation.
Workers are responsible for the lives of the people they're caring for. Some need to be able to identify seizures, like to be able to help with Tammy who is high-needs, or someone who has experience working with people with autism, like Todd.
"I've even asked some retired nurses … They didn't want to (work in direct care)  because they said it was too much responsibility for such a small amount of pay," she said.
These days, Abbott sends petitions for pay increases to her family and staff.
Sarah Hubble, the cofounder and executive director of Midland's Independent Community Living, connects direct care workers to families, whether they need around-the-clock care or a few hours a day, according to the service's website.
When it comes to recruiting staff, Hubble feels like competing with other industries is "nearly impossible."
"They can't live their life on this pay," Hubble told Bridge. "We're blessed in many ways because we do have such a core group of staff. … But most people come to me when they are giving up this job to say, 'I love this job. I really love what I'm doing. But I can't I can't afford to pay my bills.'"
Hubble is so desperately short-staffed, she said one client is being cared for by his 64-year-old mother.
"The whole point of me being on my own was, so my mother (Kathi Hitchcock) wouldn't have to do that anymore," Michael Hitchcock, 36, told Bridge. "I know she's okay with doing it, but she's also getting older now, and there's going to come a point where she can't do it."
Abbott's and Hitchcock's situations aren't unique. Virginia Killough and her 31-year-old son, Al Smith, spent 15 days in a Marquette emergency room this June after Smith had a behavioral episode that led to his staffing agency quitting.
While he was hospitalized, the agency providing him help with meal preparation, laundry, daily activities of life and community outing pulled out altogether.
"It was frustrating. It didn't make sense to me," Killough told Bridge. "The whole idea of hospitalization didn't make sense. Knowing my son, I thought only bad things could come from it."
Killough eventually was able to bring her son into her home for 12 days following his hospitalization, with her serving as his round-the-clock caregiver.
She eventually turned to Facebook, asking for help. It worked. Since then, she has hired eight people to assist her son.
Even now, she worries.
Getting people to stick with the job isn't easy. And it's frustrating when, after her son builds a connection with them, they leave, she said.
"Relationship building is really important and that takes time," Killough said. "People, even the ones you build relationships with, suddenly one day they're gone. That makes trusting people difficult.
"I'm sure he misses people and can't say it," she said of her son.
Passion more than paycheck
Arc Michigan is a part of a coalition of direct care work supporters advocating for an $18 an hour starting wage for direct care workers, and some local agencies have announced programs to help encourage employee retention.
"It's just really important that we stabilize this workforce and pay them … a wage that is competitive … so that we are not putting our most vulnerable people at risk of being put into places where they don't want to live," Boyd said.
"There's there's always focus on 'let's get more psychiatric beds, let's get more residential,' but because we're not focusing on the front end, where people can live in their own place … (Instead) we're dealing with crisis all the time."
To help recruit and retain new workers, Macomb County Community Mental Health announced $1,000 signing bonuses for people still on the job after 30 days. Staff hired prior to June 1 receive $1,000 bonuses after 6 months of work. Staff hired before 2022 receive a $2,000 bonus after a year.
In May, the Oakland Community Health Network began offering an additional $1.43 to the starting wage for direct care workers to $15 an hour.
For Killough, the best caregivers don't mind investing their time to get to know the people they're caring for — even if, for now anyway, there's a bigger paycheck waiting elsewhere.
Smith has had hundreds of care workers in his lifetime, and many still keep in touch with them, Killough said.
"So many people reached out to me in the hospital, and they told me 'meeting Alexander in high school changed the course of my life and now I'm doing this kind of work,'" she said. "It's a very important job."
And for people like Mazzola, the benefits of the job outweigh the stressors.
"I think it's just good hearted people that are willing to sacrifice their paycheck a little bit to do a job that they enjoy," Mazzola said.